Stick around as a manga fan for long enough, and you're sure to see some of your favorite series come and go. The books that were once traded around at lunchtime and found on bookstore shelves suddenly become unavailable. You may find that the iconic manga from yesteryear you recently discovered can't be added to your collections. It comes with the territory when collecting anything, whether it be classic manga, trading cards, or PlayStation RPGs. This is the pain and challenge of being a collector…which means that the news of a rerelease is often the cause of our joy!
One of my favorite parts of being on the Yen Press marketing team is witnessing the excitement fans have for our announcements. Looking back on my time in this industry, some of my fondest memories have been seeing the ecstatic fan reactions to announcements we made on social media or in packed panel rooms for titles such as Bofuri: I Don't Want to Get Hurt, so I'll Max Out My Defense, The Summer Hikaru Died, and Omniscient Reader's Viewpoint. But as exciting as it is to announce the latest and greatest, I also look forward to the opportunities when we announce the return of old friends—beloved manga coming back in a new edition. At Sakura-Con 2023, it was satisfying to see the looks on fans' faces as we announced our release of Bocchi the Rock!, a series that many had been requesting for months. But there was a special satisfaction for me as we announced the return of a classic in the form of CLAMP Premium Collection Tokyo Babylon. My inner fourteen-year-old self smiled as I heard the squeals of a bunch of fellow thirty-year-olds, knowing that longtime fans had a new opportunity to collect the beloved series. Perhaps more importantly, I was happy to know that a new generation of fans had an opportunity to enjoy this wonderful series made by one of the most iconic collection of manga creators. It's nice to see old friends make a comeback!
Let's look at a few great series that have been given a second life in the form of a new release from Yen Press.
by CLAMP
Subaru Sumeragi is the thirteenth head of his clan and a powerful onmyouji. With the help of his twin sister, Hokuto, and the veterinarian Seishirou, he solves supernatural troubles in Tokyo and helps whoever he can. However, not all onmyouji are so kind—there are some who use their power to kill, and unbeknownst to Subaru, he has a history with one such assassin…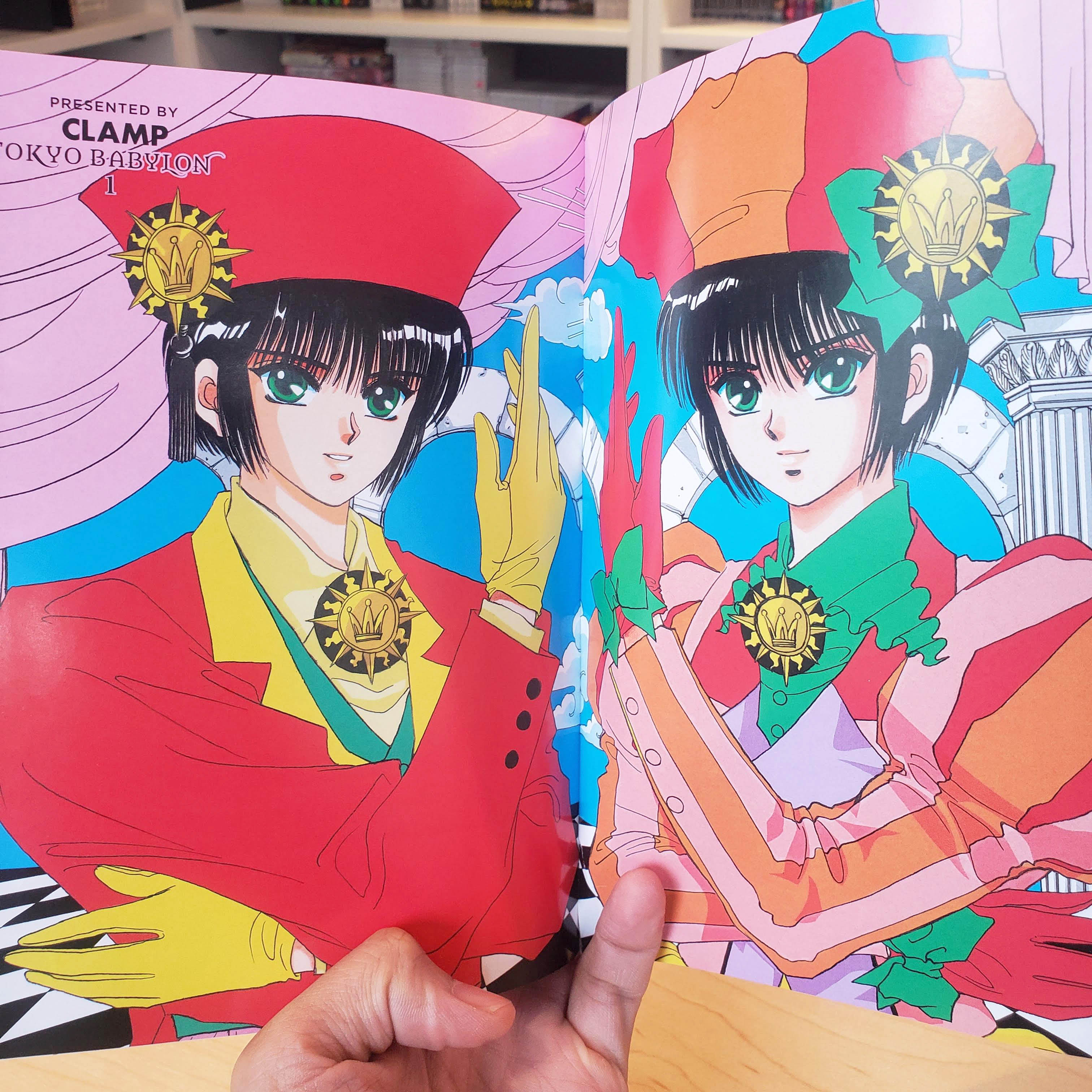 As a someone who lived my teenage years during the 2000s manga boom, there were few creators as prolific and iconic as CLAMP, the four-member, all-female supergroup responsible for some of the most popular series in manga history. If one were to write a shortlist of some of the most beloved of their legendary series, Tokyo Babylon would have to be present. It's a series that has always stood out for its compelling supernatural premise and its criminally stylish 90s aesthetic. Upon reading the series again, I've also come to appreciate CLAMP's beautiful illustrations and comic storytelling displayed throughout the pages.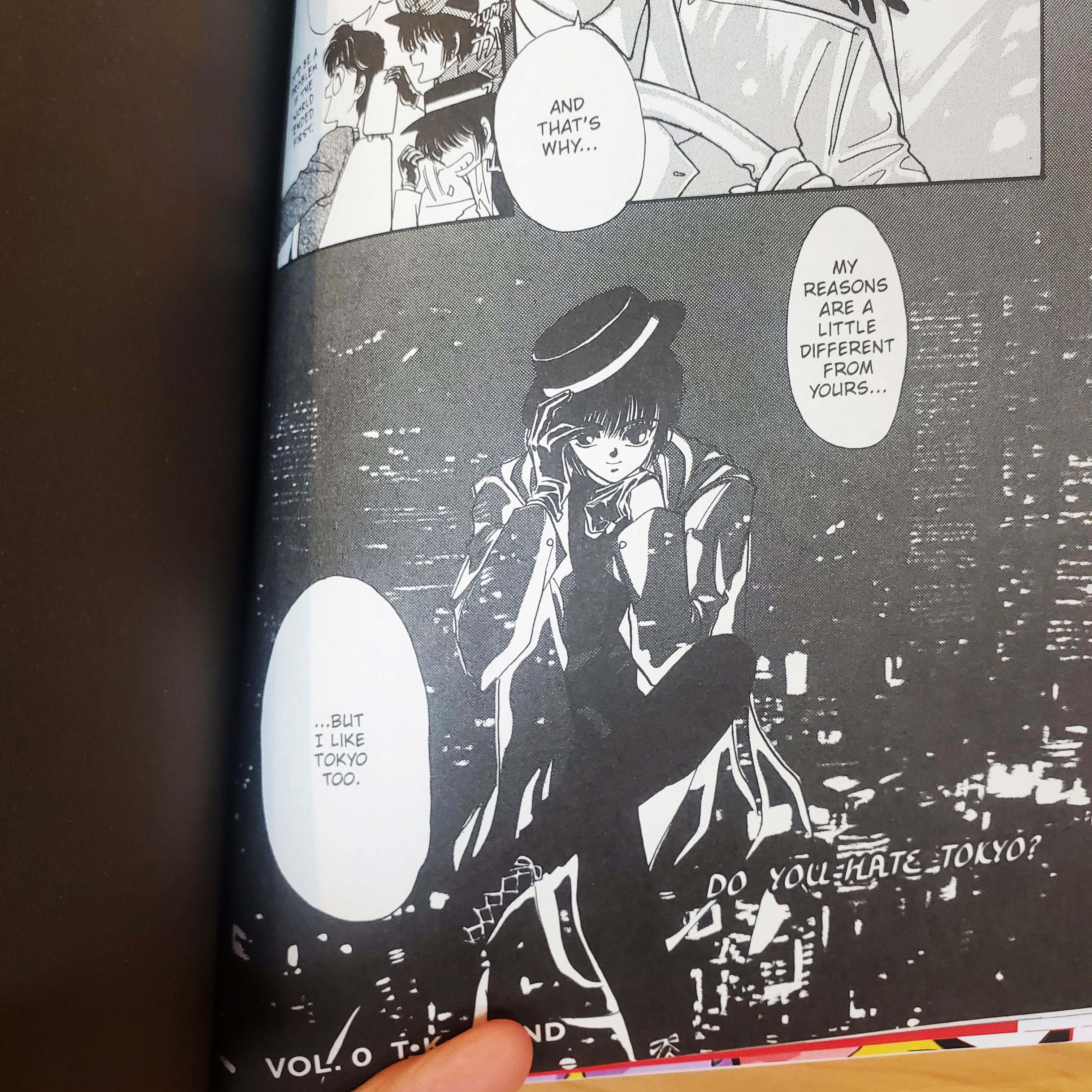 The Yen Press rerelease of the classic manga CLAMP Premium Collection Tokyo Babylon artistically features the fashionable cast on colorful and vibrant covers. This new edition of the series is printed in a larger trim size that helps emphasize CLAMP's amazing interior artwork as well as the color foldout poster that greets readers at the start of each entry. The first volume's bright red spine, shining like a beautiful spotlight, serves as a reminder that CLAMP Premium Collection Tokyo Babylon is now one of my favorite Yen Press series on my shelf, and I cannot wait to place more beautiful, vibrant volumes next to it in the future.
CLAMP Premium Collection Tokyo Babylon, Volume 1 is available now.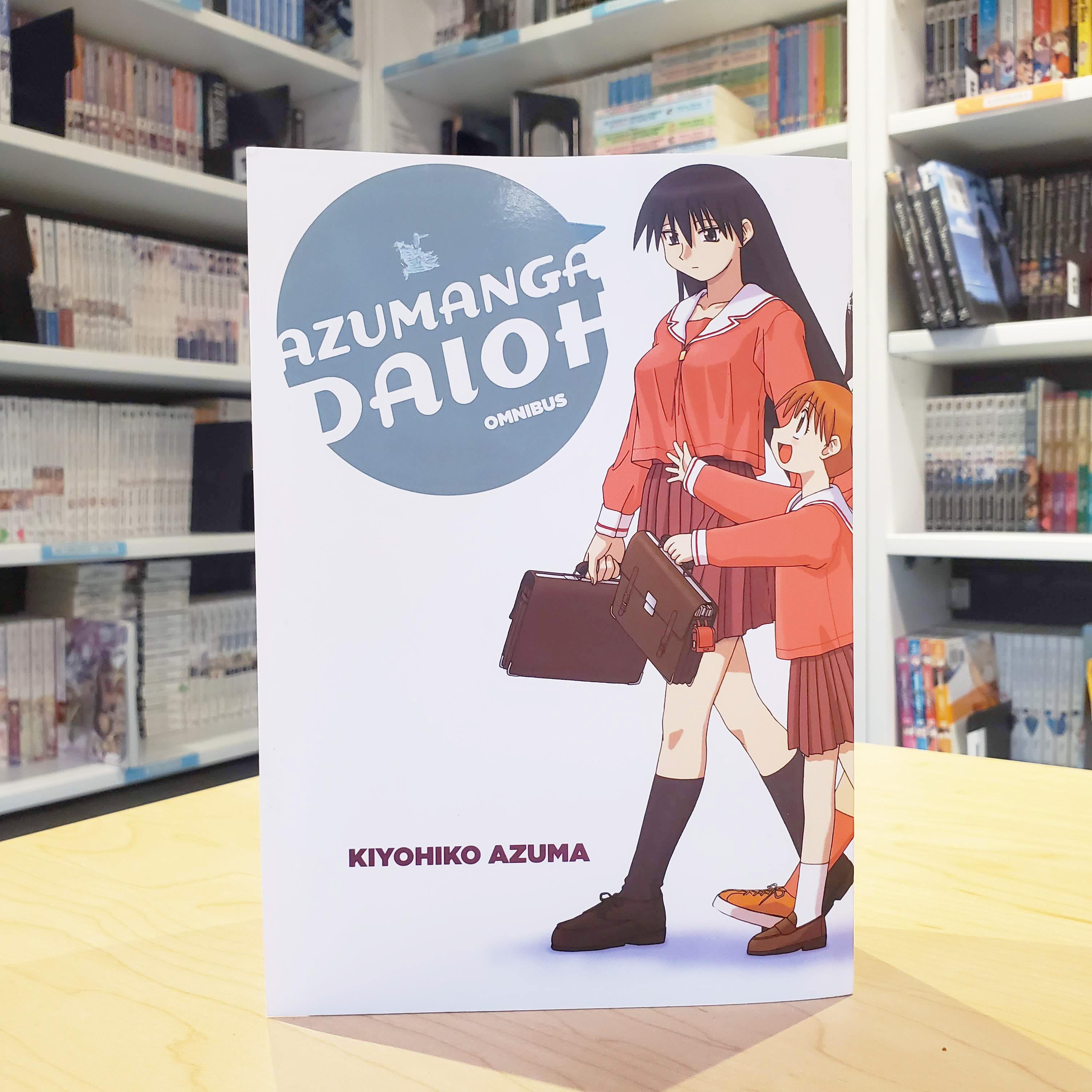 by Kiyohiko Azuma
The best high school stories are simultaneously funny, warm, and endearing—but most importantly, the characters come alive on the page. Get to know the girls who set a new standard for the high school experience! Sakaki—strong and silent with a soft and fuzzy center. Chiyo—a towering intellect wrapped in a ten-year-old package. Tomo—the Mouth. Yomi—should stop eating if she wants to lose weight. Osaka—well, she's . . . different. The original phenomenon from Kiyohiko Azuma is collected in this deluxe edition and is an absolute necessity for any manga enthusiast's library!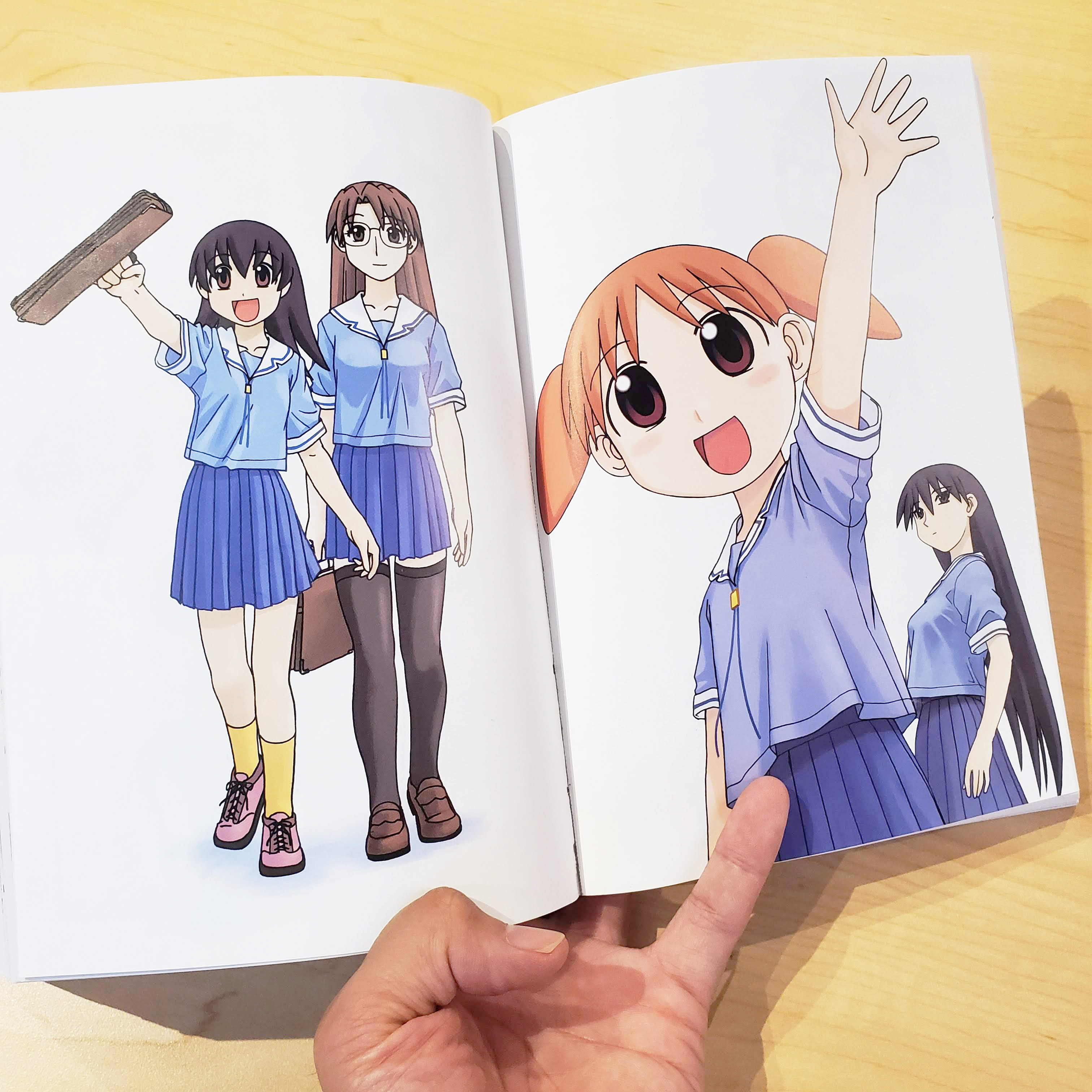 In my early years as a manga fan, the same years in which Tokyo Babylon reigned supreme, another one of the most popular series around was Azumanga Daioh. To this day, the series serves as a measure of how old and "otaku" a manga or anime fan is based on their reaction to iconic Azumanga Daioh quotes such as "I wish I were a bird" or "Cooking is so fun!" While there were likely many series similar to Azumanga Daioh published in Japan, it really was the manga that made my generation realize how fun and funny four-panel comics revolving around a female-led class could be, paving the way for hits like K-ON! and Bocchi the Rock! I blinked, and all of a sudden, I found that this personal favorite of mine could no longer be purchased at a bookstore…but then Yen Press came to the rescue!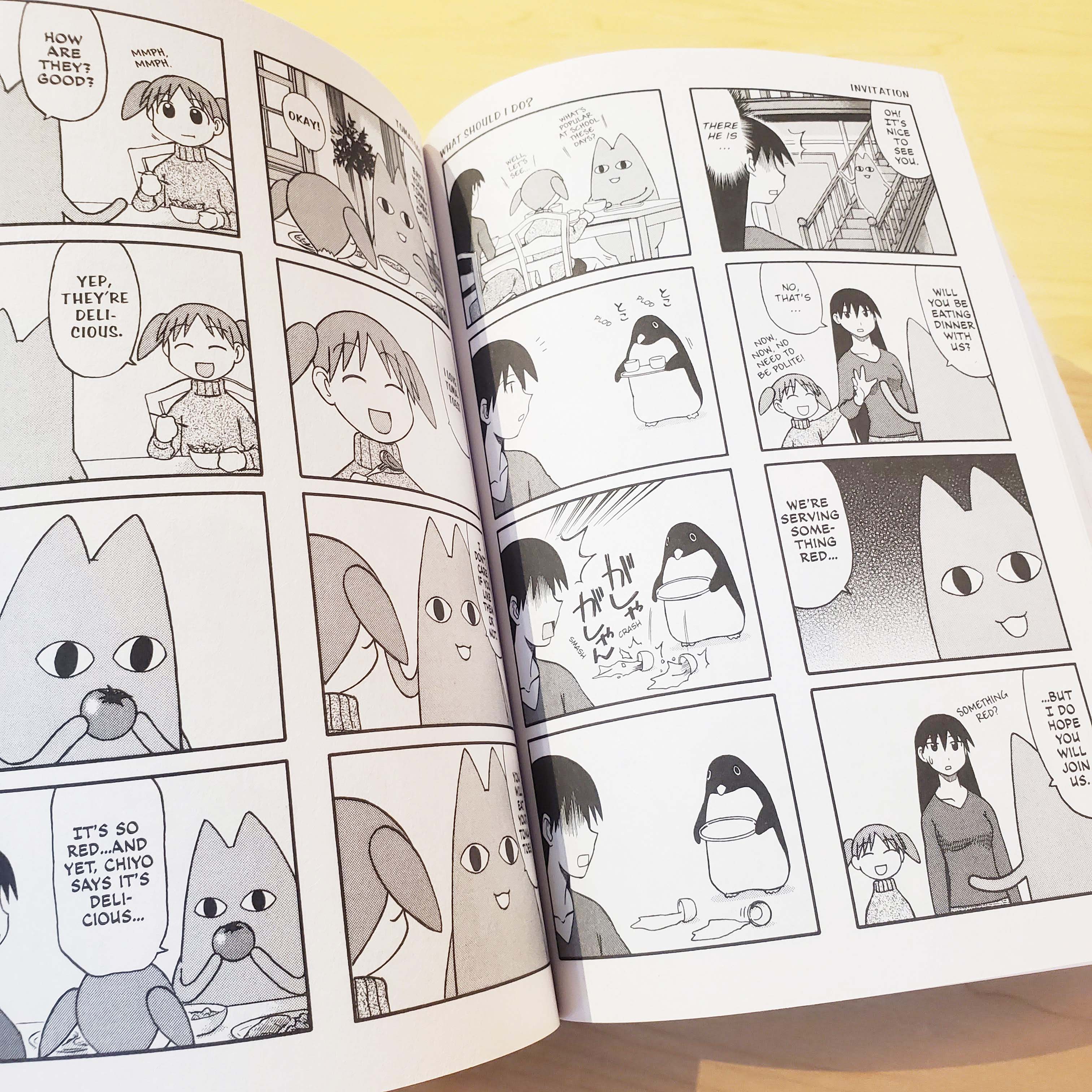 The Yen Press edition of Azumanga Daioh collects all four volumes of this wonderful series into a lovely omnibus edition. This beautiful brick sticks out as another favorite on my shelf, with its spine showcasing Tomo and Yomi as part of a wrap-around cover that includes the entire beloved cast. Also included in the Yen Press edition of Azumanga Daioh are color inserts that give the reader more illustrations of creator Kiyohiko Azuma's wonderful characters—and even a few pages of full-color comics. This edition of Azumanga Daioh has been in print for nearly Yen Press's entire existence, providing generations of fans the opportunity to own this true manga classic.
Azumanga Daioh is available now.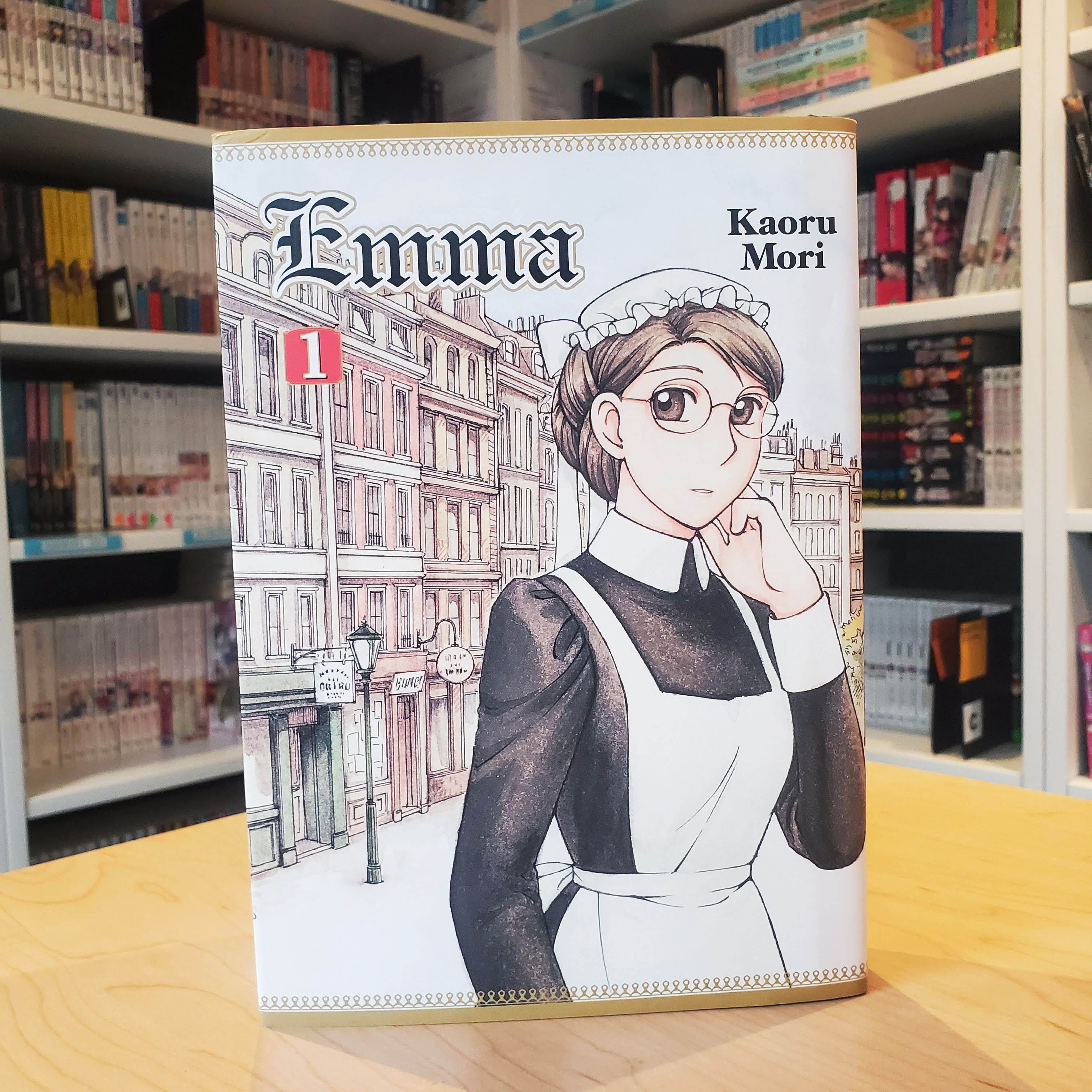 by Kaoru Mori
Calling upon his former governess, William Jones, gentleman, is startled when his knock is answered by an uncommonly beautiful servant, the soft-spoken Emma. Throughout his visit, William's eyes drift to the maid whenever she enters the room, and he contrives to meet Emma socially as she goes about her errands. But London society is a web of strict codes and divisions. For the son of a wealthy merchant, seeking out a working-class girl is simply not done! William's father plans for his son to marry into the peerage and elevate the Jones family to greater heights, but although William says and does what is expected of him, he longs only for Emma's company...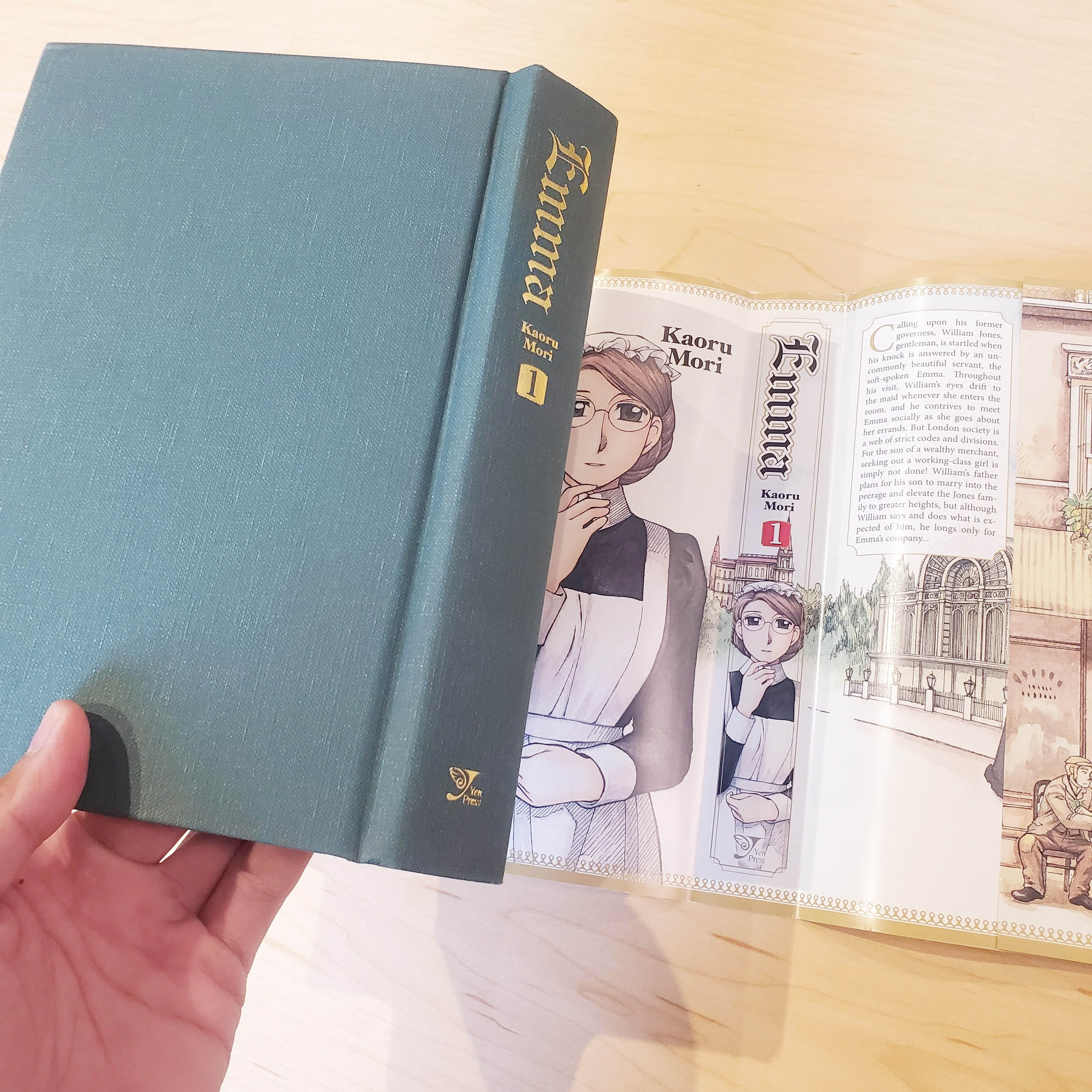 Considering the history of Yen Press and the amazing Kaoru Mori, it may be a surprise to some that we were not the first English-language publisher of Emma. All ten original volumes had previously been published in English but unfortunately became unavailable as years passed. We at Yen Press absolutely adore Kaoru Mori. We love her so much that the first thing employees and visitors see as they step out of the elevator at our New York-based office is a mural of her artwork from A Bride's Story. As such, we made sure that one of our shining achievements in book production was our rerelease of Emma, one of our most sensual and romantic series from our catalog.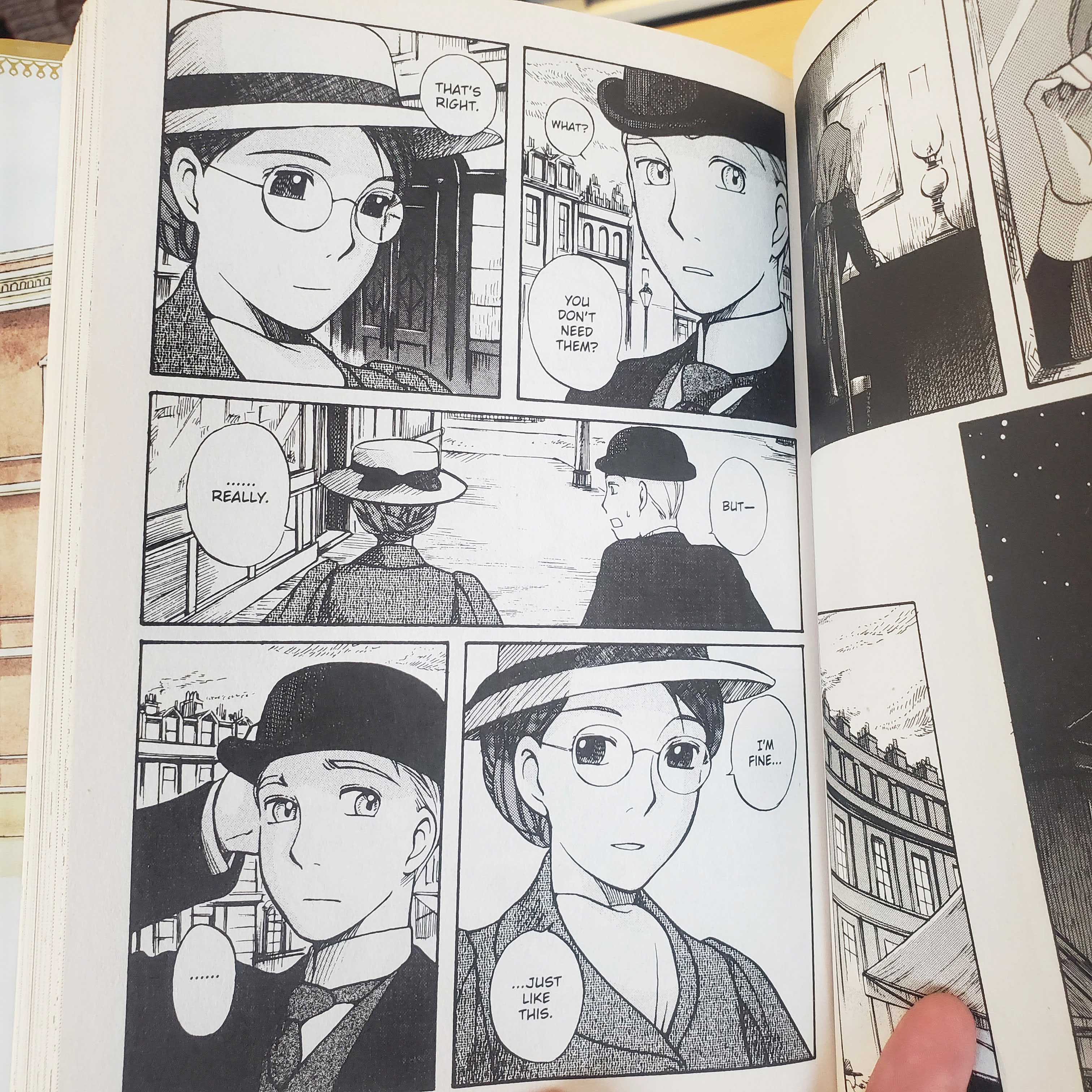 Much like our other Kaoru Mori print releases, such as A Bride's Story and Scribbles, Emma is printed in a lovely hardcover edition with a large trim size. Each print volume of Emma includes two volumes of the original series, allowing the Yen Press edition to complete this wonderful story in five volumes. The beautiful dust jacket featuring Kaoru Mori's amazing artwork is double-sided, allowing collectors to see all ten cover illustrations from the original edition. Through the years, I've held thousands of volumes of manga in my hands, but the Yen Press edition of Emma is one of the finest produced works out there. Believe me when I say that this is not simply my bias as a company man. This comes from my love of fine comics and beautiful things.
Emma, Volumes 1–5 are available now.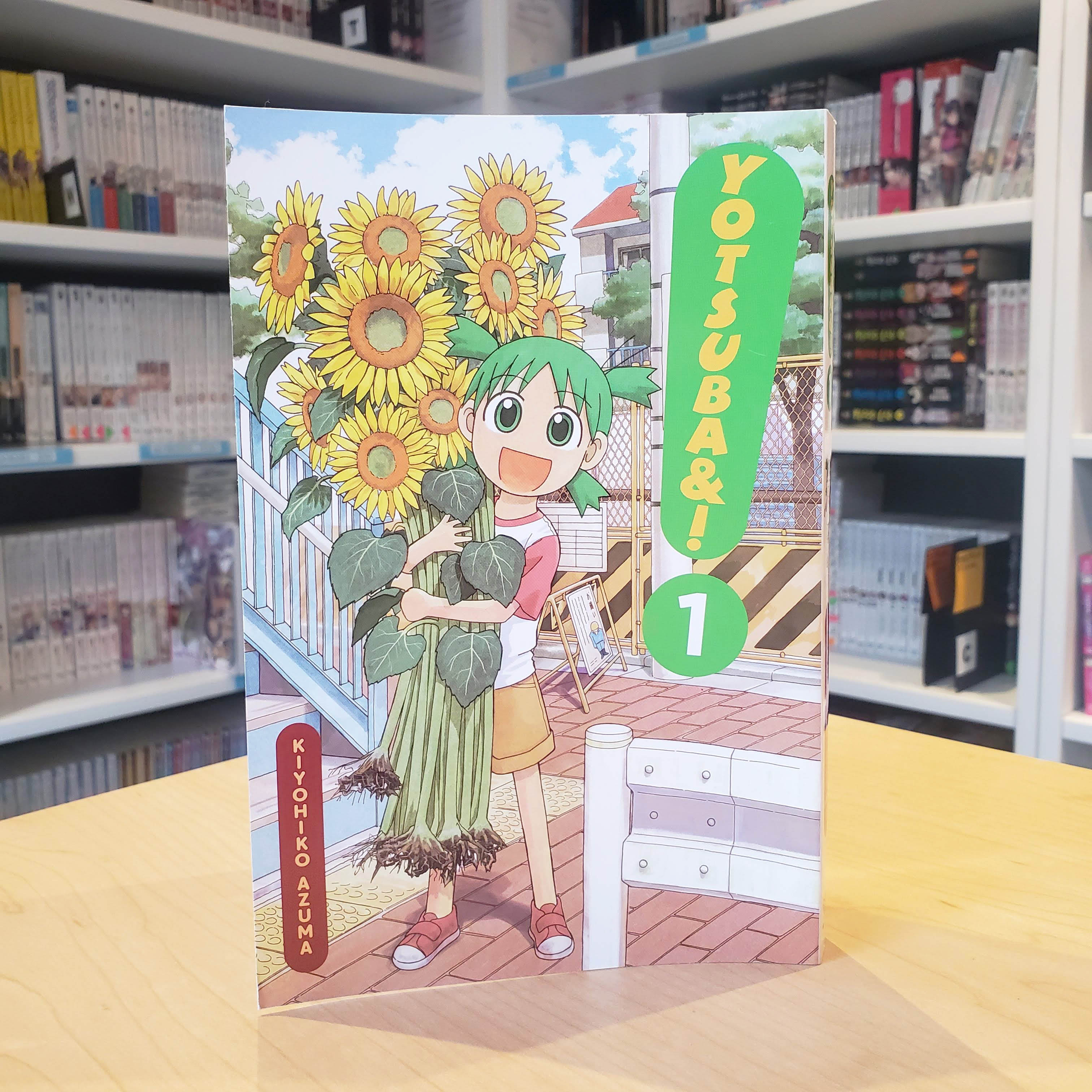 by Kiyohiko Azuma
Hello! This is Koiwai Yotsuba, Yotsuba Koiwai...um, YOTSUBA! Yotsuba moved with Daddy to a new house from our old house waaaaaaay over there! And moving's fun 'cos people wave! (Ohhhh!!) And Yotsuba met these nice people next door and made friends to play with (one of 'em acted like one of those bad strangers Daddy told Yotsuba not to go with, but it was okay in the end). I hope we get to play a lot. And eat ice cream! And-and-and...oh yeah! You should come play with Yotsuba too!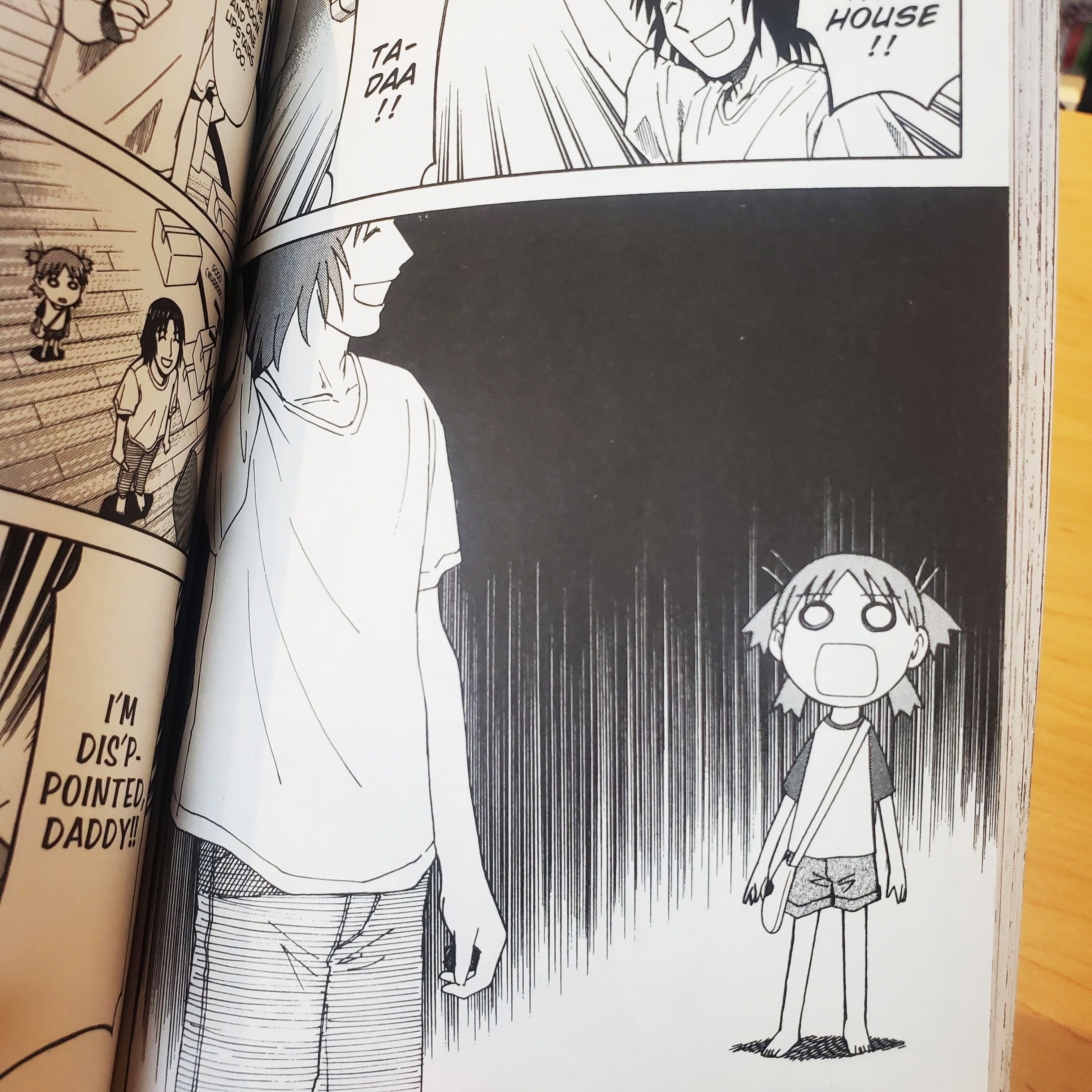 In this list, we have another iconic work from Kiyohiko Azuma. And much like Emma, this next entry is a manga that wasn't originally localized by Yen Press. I'm of course talking about none other than Yotsuba&!, one of the most cozy and pleasant slice-of-life manga ever created. This is a series so beloved in the Yen Press office that we have the titular character displayed on the doors of a couple of rooms to brighten the atmosphere. Needless to say, one of our proudest moments was bringing this series to the many readers who wanted the sweet story of Yotsuba to brighten their hearts.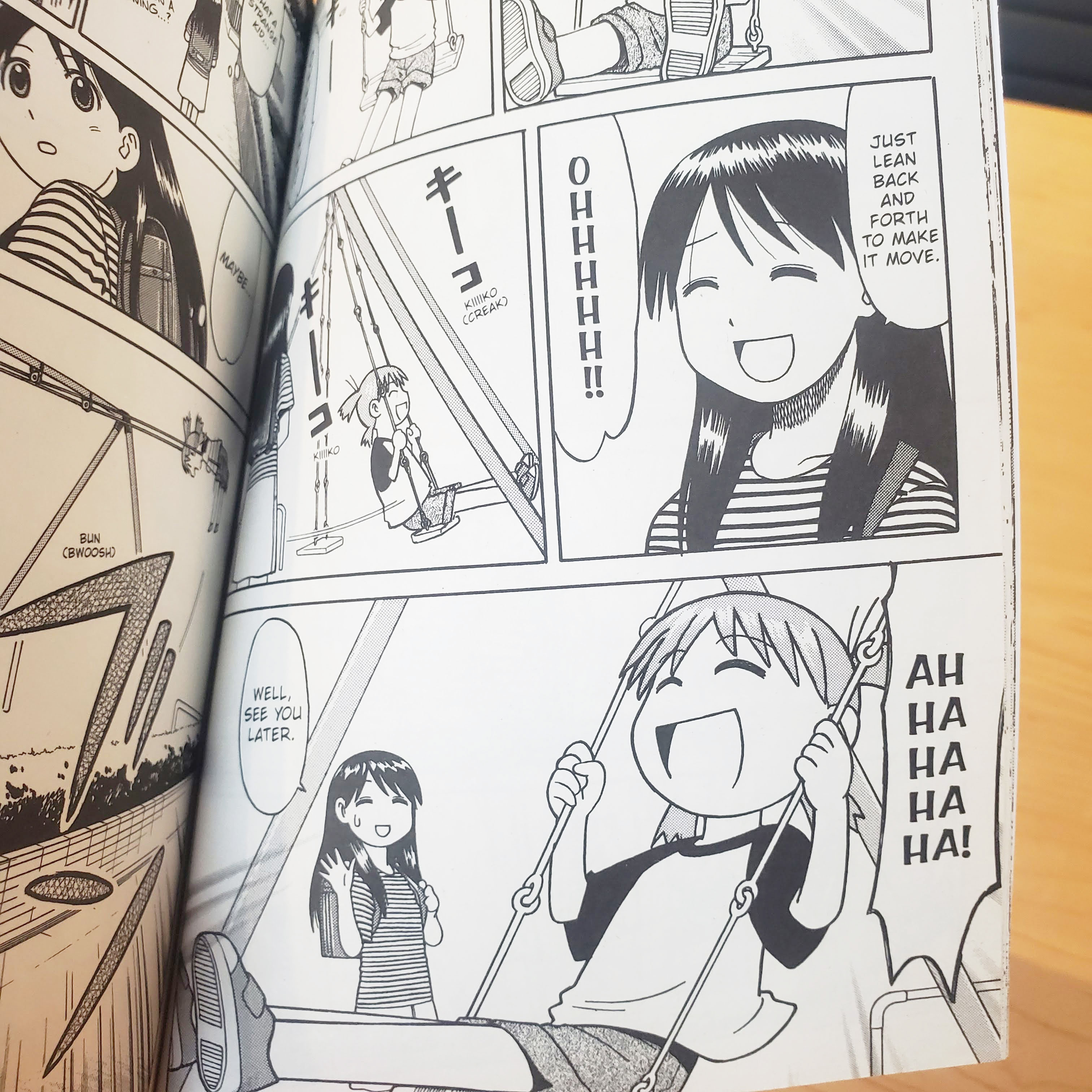 Out of all the series on this list of rereleases, Yotsuba&! is the simplest and most straightforward in terms of book production, though since it is Yotsuba&!, simply printing the series was enough to make the rerelease special. So rather than going into detail about what a collector can expect when obtaining a volume of this sweet series, I'll share with you a story of its rerelease. Five volumes of Yotsuba&! were previously available before it went out of print. Once Yen Press obtained the rights to bring back Yotsuba&!, it was released in a manner in which fans could not only collect the latest sixth volume, but all five of the previously released volumes in our new edition as well. I've witnessed rereleases and "license rescues" in the past, and I can tell you firsthand that publishing and printing that many volumes simultaneously is special. But Yotsuba&! deserved it, and so did her many fans.
Yotsuba&!, Volume 1-15 are available now.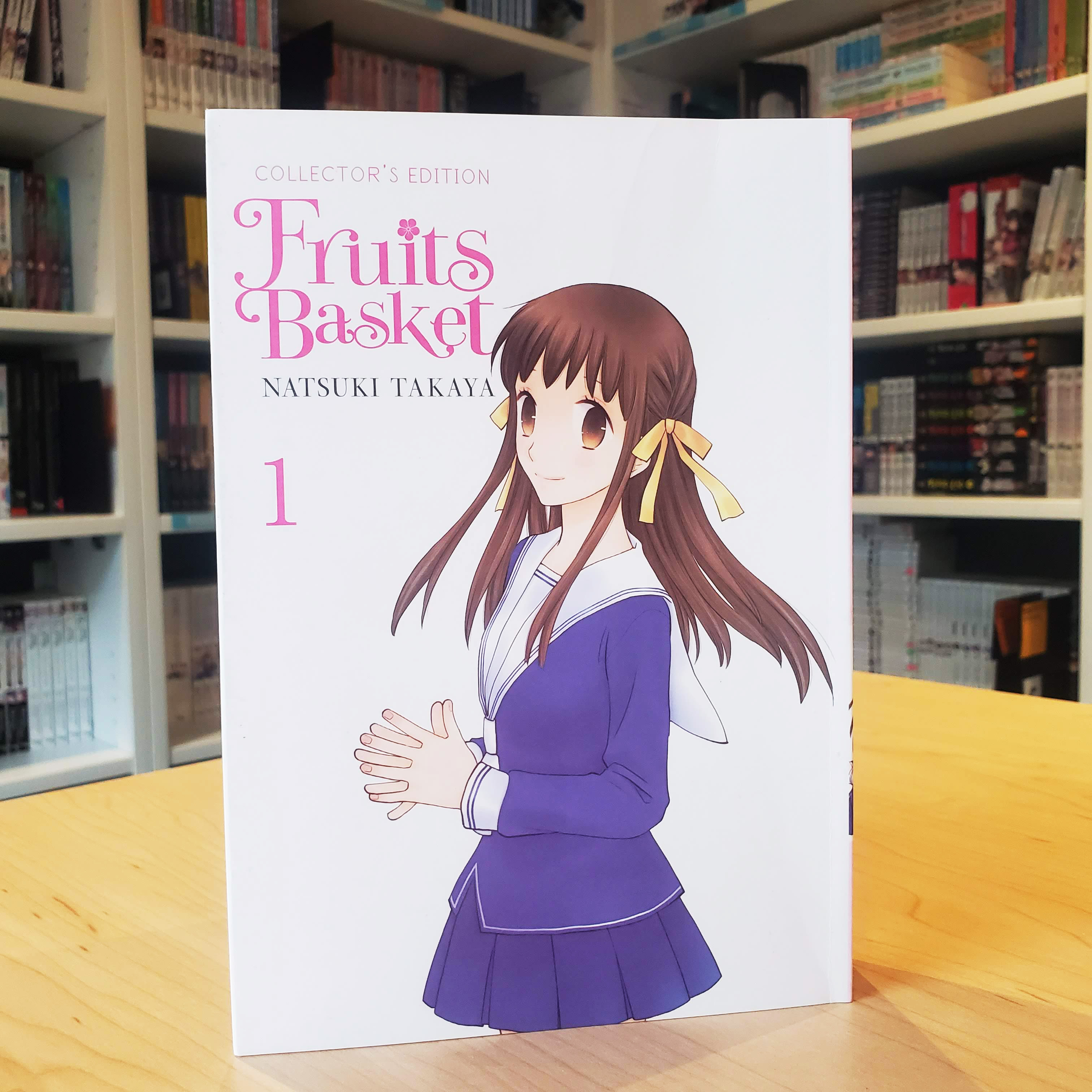 by Natsuki Takaya
After a family tragedy turns her life upside down, plucky high schooler Tohru Honda takes matters into her own hands and moves out...into a tent! Unfortunately for her, she pitches her new home on private land belonging to the mysterious Sohma clan, and it isn't long before the owners discover her secret. But, as Tohru quickly finds out when the family offers to take her in, the Sohmas have a secret of their own--when touched by the opposite sex, they turn into the animals of the Chinese Zodiac! A perennial favorite of fans and librarians alike, Natsuki Takaya's beloved bestselling Fruits Basket series returns to print in gorgeous deluxe English-language omnibus editions with beautiful full-color illustrations that are not to be missed!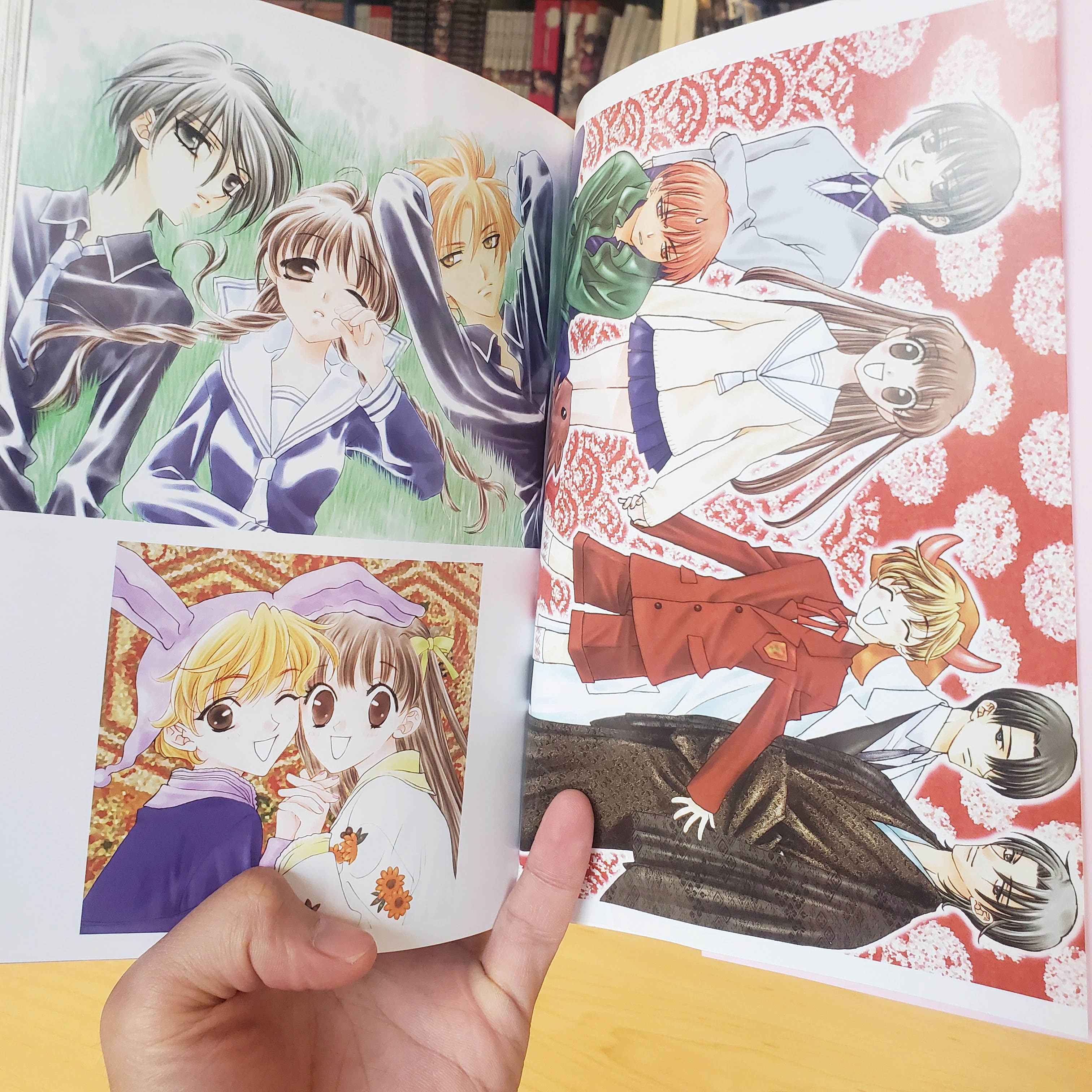 Fruits Basket is a series that stood out as a bestseller in the early 2000s when manga began its rise in popularity and to this day stands out as one of the most iconic shojo properties outside of Japan. For many people of an entire generation, Fruits Basket was their introduction to manga and anime. The importance of Fruits Basket and the immense popularity it had made its absence in the years it was unavailable to fans a tragedy. It is also why its eventual rerelease from Yen Press made it arguably the most significant in the history of manga in the west.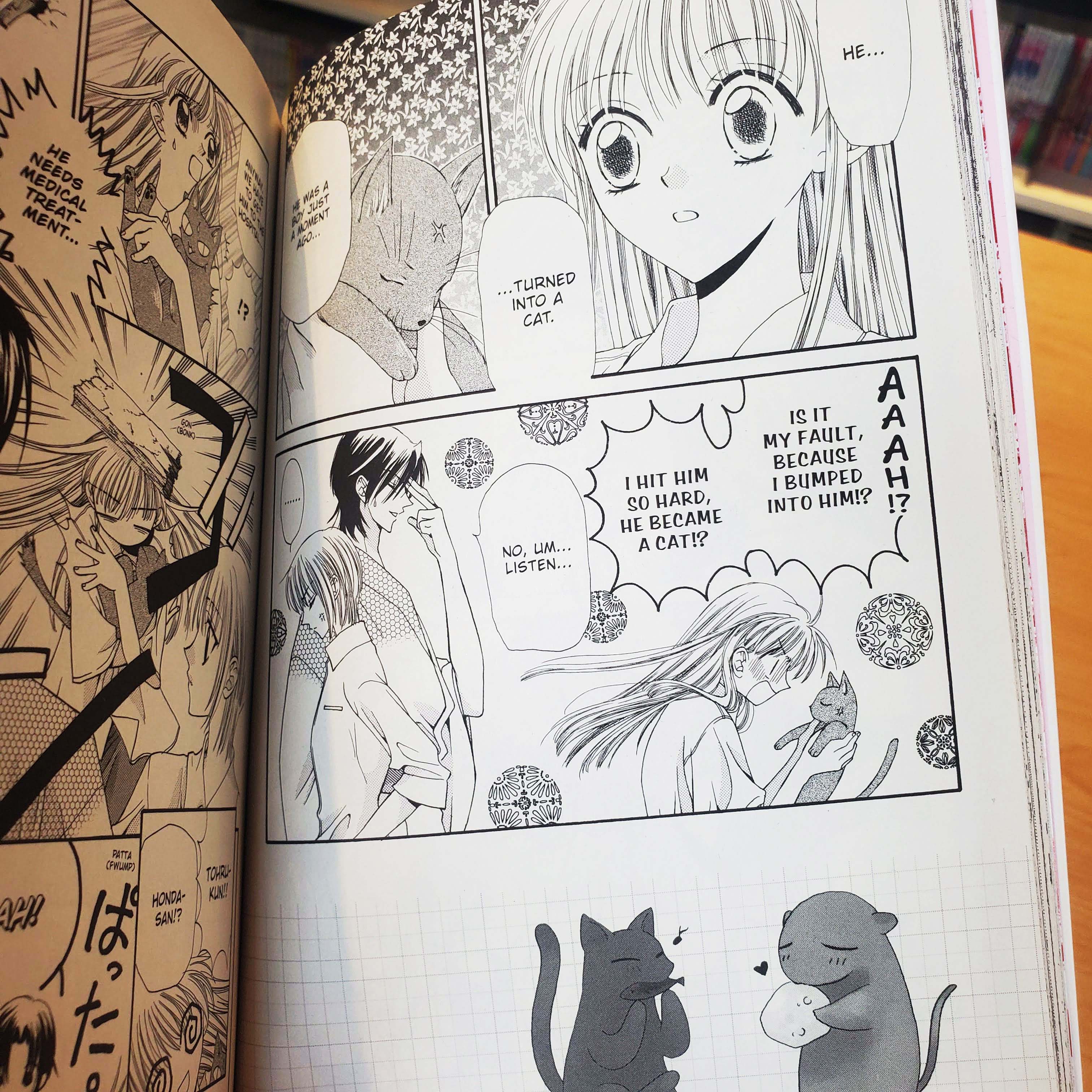 If you've made it this far down the article, I think you can get a sense that when we at Yen Press rerelease a manga, we make sure to make it extra special. Our Fruits Basket Collector's Edition is an omnibus collection that features 2-in-1 bindups of the classic manga series. It features a larger trim size that allows readers to enjoy Natsuki Takaya's touching story and color interiors like never before. To make this rerelease even more special, each cover of the Fruits Basket Collector's Edition featured cover art from the special aizoban editions which were new to Japan at the time of the release of the Collector's Edition. As important as it was for longtime Fruits Basket fans to have the opportunity to own the series in print, this rerelease was even more important for the many new fans of the property that discovered the series in the 2020s. Seeing that the success of the Fruits Basket Collector's Edition these past few years has eclipsed its initial success in the 2000s, it is clear that this rerelease was beloved by many fans, new and old.
---
I hope you enjoyed this article highlighting a few moments in which we saw the return of old friends!